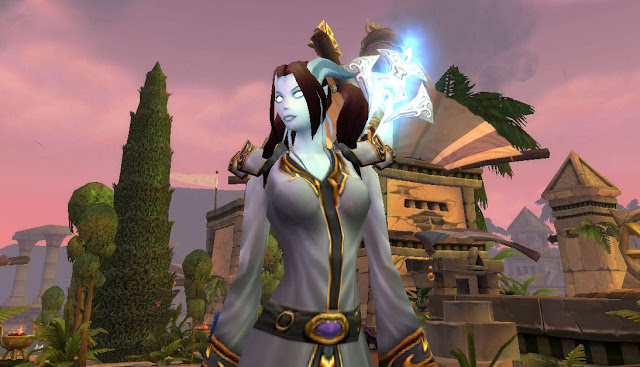 First, a brief introduction:
I'm known in these circles as the Mogfather. I predicted transmogrification would be big for gold-makers, and in 45 days following the release of patch 4.3 and I've earned over one million gold doing one and one thing alone: flipping gear and weapons on auction houses. I buy low, I sell high and in some cases extremely high. I follow a strategy that I honed on my own leveraging a pair of invaluable resources (
wowroleplaygear.com
, wowhead.com) as well as visual tools I developed that are currently hosted on my former blog (
deazeroth.com
). If you'd like more insight into the background story and philosophy behind the strategy, check out flux's
Power Word Gold Podcast Episode #24
. Read on past the jump.
For more information and/or questions, follow me on Twitter (
@DEazeroth
) or email me directly at
[email protected]
If you're unfamiliar with my tiers and pricing strategy for transmog armor, check out my previous post on Mail items for more description. The short version of the story is high end range is chest (robe), low end range is belt/hands/feet. All pants and tunic combinations I typically price about 30% less than the robes but I do so on a case-by-case basis. For example, the Silver-Thread Armor + Silver-Thread Pants is often more desirable than the Silver-Thread Robe because it makes a caster look more like a rogue than a wizard in a dress. I've seen a number of my top 5 tiers below "raised" in price to 100-500g on most realms. But the prices below are generally the prices by which I move these items and it's much higher than what current transmog-savvy auctioneers expect to get in return. The majority of my proof point sales that are usually the head-scratchers (Robes of Insight for 10,000g, Silksand and Sage robes for 3,000g, etc.) have been documented and posted on Twitter since patch. Trust me, they're that desirable. If you're on a low pop server, you may want to reduce your prices a bit, but try to maintain the price tiers because that will help inform and direct your customers. With that said, let's get on with it!
Tier 1: (7,500g - 15,000g)
Robes of Insight
: Currently the crown jewel of BoE cloth items, but it comes with baggage. It sells similar to the
Skullflame Shield
, if you're familiar with trying to move one of those. I've seen it as high as 50,000g on some servers and as low as 3,000g on others and in each case the item can sit for weeks without a buyer. Your ability to sell this robe relies on 1 of 2 things: (1) An uninformed player who is not aware a BoP exists of the exact same model/skin as well as 3 other skins of the same model, or (2) A player who simply wants the green and doesn't want to spend the time to get the alternate BoP. I suspect this is largely the reason why on some realms the odds are extremely low you'll pull more than 15k for them, and on others they may stagnate for weeks even as low as 3k. It's a niche item. That said, I've sold three and the prices have been in this range. Smaller realms where transmogrification hasn't become as predominant you may need to lower expectations even further.
Tier 2: (1000g - 3,000g)
Silksand
Vital
Raincaller
Tier 3: (900g- 2,500g)
Embersilk
Felcloth
(Those that have followed me for the last 45 days know I'm not a fan of crafting items or flipping crafted items. That said, this is a gem and I watch for it. If you can craft it, do it.)
Mooncloth
(Again, another item that is a gem and worth crafting if nobody else is doing it.)
Elegant
Tier 4: (750g - 2,000g)
Nightsky
Lunar
Sage
Windchanneller's Tunic
(You're hoping for a buyer who is trying to complete the set)
Windchanneller's Leggings
(You're hoping for a buyer who is trying to complete the set)
Tier 5: (650g - 1,500g)
Beaded
Ancestral
Aboriginal
Barbaric Cloth
Tier 6: (500g - 1,200g)
Mystic
Hibernal
Silver-Thread
(Tunic/Pants also sell extremely well)
Black Velvet Robes
Stonecloth
Highborne
Gaea
Venomshroud
Arachnidian
Tier 7: (500g - 1,000g)
Imperial Red
Councillor's
Tier 8: (500g - 900g)
Regal
Mystical
High Councillor's
---
If you're on a low pop server or your server "just isn't buying", this is your threshold. Stick the items above and you will do just fine. I've tested this theory on numerous realms that have been "having problems", and if you stick to the upper tiers the items sell like candy. Where players haven't been able to make a sale, I've been able to make 5k in just a few days by targeting the right items and creating tiers to inform and direct buyers. However if you're on a high population realm, as is the majority of my inventory (Proudmoore, Earthen Ring, Tichondrius), and are looking for some additional differentiation in your portfolio, I also stock and sell these pieces with great regularity.
---
Tier 9 (350g - 500g)
Shadow Council
(Great set, far too common)
Outlander's Facewrap
Tier 10 (200g - 350g)
Gossamer
Buccaneer
Journeyman
Simple
Scholarly
Twilight
Windchaser
Tier 11 (100g - 150g)
Anything else you feel like shooting for, most robes are worth a gamble here. Some I price at the low levels just to help direct buyers to my higher priced items include:
Aurora
Sorcerer
Royal
Astralaan
Resilient
Pagan
-Keelhaul (AKA The Mogfather)
UPDATE: For an Auctionator-ready importable shopping list of these items see the post
Transmog Auctionator Lists
over at
Twitchie Enterprises
.
Based on Twitchie's work above I went ahead and created Auctionator-importable lists that include Keel's pricing tier structures. Once imported select a list then click on the items in the list "Armor/Plate/Lofty" to see which of those items are on the AH. Here's the text to use for the import. (It can all be selected at once and imported and it will automatically create multiple lists.)
For an in-depth video on how to use the lists below as well as a combined list with all armor types see the PW:G post "
Mogging Item Search And Pricing With Auctionator
".
*** cloth_T1_3-50k
Armor/Cloth/Robes of Insight
*** cloth_T2_1-3k
Armor/Cloth/Silksand
Armor/Cloth/Vital
Armor/Cloth/Raincaller
*** cloth_T3_900-2.5k
Armor/Cloth/Embersilk
Armor/Cloth/Felcloth
Armor/Cloth/Mooncloth
Armor/Cloth/Elegant
*** cloth_T4_750-2k
Armor/Cloth/Nightsky
Armor/Cloth/Lunar
Armor/Cloth/Sage
Armor/Cloth/Windchanneller's Tunic
Armor/Cloth/Windchanneller's Leggings
*** cloth_T5_650-1.5k
Armor/Cloth/Beaded
Armor/Cloth/Ancestral
Armor/Cloth/Aboriginal
Armor/Cloth/Barbaric Cloth
*** cloth_T6_500-1.2k
Armor/Cloth/Mystic
Armor/Cloth/Hibernal
Armor/Cloth/Silver-Thread
Armor/Cloth/Black Velvet Robes
Armor/Cloth/Stonecloth
Armor/Cloth/Highborne
Armor/Cloth/Gaea
Armor/Cloth/Venomshroud
Armor/Cloth/Arachnidian
*** cloth_T7_500-1k
Armor/Cloth/Imperial Red
Armor/Cloth/Councillor's
*** cloth_T8_500-900
Armor/Cloth/Regal
Armor/Cloth/Mystical
Armor/Cloth/High Councillor's

-Jim
---
Ready to write for the Hatchery? Submit your World of Warcraft gold-making post to

[email protected]

.
---